Please note:
An application without a firm project commitment is not possible!
Only complete applications can be processed!

An application is only possible online via the application form in LUCOM, further information is available on the GGNB page on the application process.
The training is designed to enable students to integrate knowledge and methods from all classical natural science research areas in the cardiovascular focus.
All courses and training are taught in English and the research-oriented programme is open to all students with a Master's degree (or equivalent) in the life sciences, natural sciences, medicine or related fields and who (wish to) pursue a primarily cardiovascular topic in their PhD.
Details on the application process can be found on GGNB's Apply page.
Applicants with a degree in medicine or a non-science degree should contact the Coordination Office before applying.
Your way to a PhD programme in GGNB
Procedure for application and admission to a PhD programme in GGNB
Frequently asked questions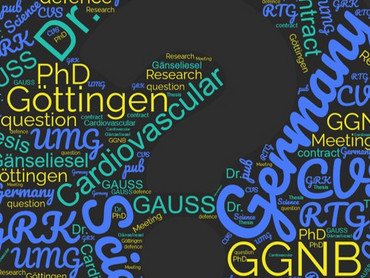 FAQ - PhD in Göttingen
Information about your PhD in Göttingen: From the early start to defence
In our FAQ section we want to give you some answers to the most important questions about your PhD in Göttingen.
From "How do I get there?" to "How does the registration and enrollment work?" to "What do I need to know about my contract periods?" we want to give you a small overview of the bureaucracy.
Please click here to our FAQ-Section
PhD2go
The Podcast for PhD students in the natural sciences in Göttingen
In our podcast PhD2go we talk about the advantages of doing a PhD in Göttingen, the beautiful sides of the city, the university and the university hospital.
We inform you about the not-so-easy structures and the different stages of PhD life. Have fun!
Moderation: Alisa
Intro-Voice: Julius
Events/Courses
Cardiolunch (Lecture series)
From 13:00 - 14:00 each day, at the UBFT, Robert-Koch-Strasse 40:
01. November 2022: Majid Ramedani (DPZ)

06. December 2022: Niko Schwenzer (UMG, Cardiology and Pneumology)

17. January 2023: Sabine Maamari (UMG, Cardiology and Pneumology)

21. February 2023: Surabhi Swarnkar (UMG, Cardiology and Pneumology)

21. March 2023: Manuel Lopez (UMG, Cardiology and Pneumology)

Regular attendance can be credited with 0.5C/year, regular attendance + own presentation can be credited with 1C/year for a PhD program in GGNB.
Consultation, Administrative Coordination Cardiovascular Science